When and why did you begin writing? I became truly motivated to write it after my mother's passing. Partially to help me cope with the loss.
What genre are you most comfortable writing? I love fiction; I've always had a very vivid imagination.
How much of the book is realistic? Ninety Percent is possible in real life.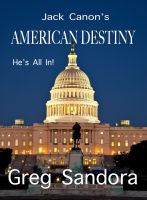 Buy Now @ Amazon & Smashwords
Genre – Political Thriller
Rating – PG
More details about the author
Connect with Greg Sandora on Facebook & Twitter
Website http://www.gregsandora.com/